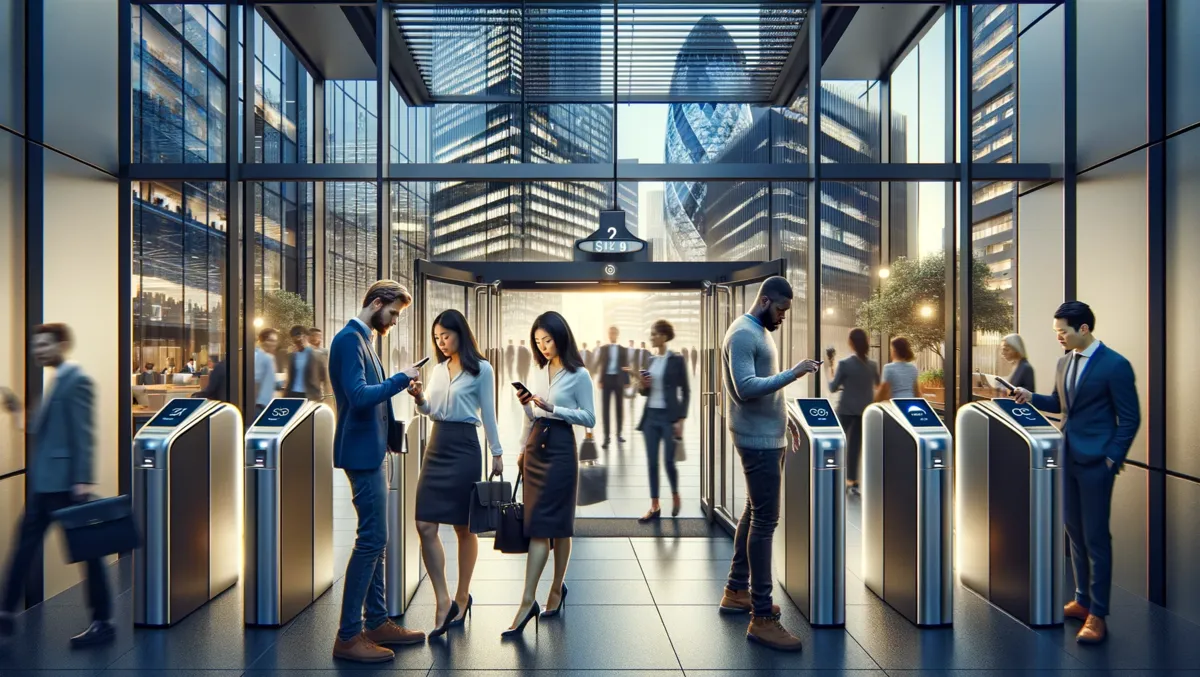 British Land introduces digital wallet access for London office building
British Land, one of Europe's largest listed real estate investment companies, has partnered with SwiftConnect and HID to introduce a digital wallet solution that transforms access at one of their flagship properties, Broadgate's 100 Liverpool Street office building in London. The innovation enables employees and visitors to gain access using their iPhones and Apple Watches, replacing conventional access methods.
This rollout of a mobile access solution signifies a critical shift by commercial landlords towards equipping individuals with self-service, instantaneous access to more convenient and superior spaces. SwiftConnect AccessCloud, HID Origo, and HID SEOS, all underpin the new access system. The integration of these state-of-the-art technologies vastly simplifies and secures the access transaction when an individual presents their iPhone or Apple Watch to HID SIGNO and iCLASS SE Readers.
Fiona Sawkill, Head of Digital Placemaking at British Land, stated, "Reshaping the way people access British Land buildings fits our vision of modernizing office spaces and providing the best experiences for our customers, employees, and visitors. Thanks to technology partnerships with SwiftConnect and HID, we are now able to deliver a seamless access experience, while strengthening our security and improving operational efficiency."
The process is simple. After an initial setup via the My Broadgate app, developed by Equiem, users can add their mobile credential to their Apple Wallet without needing any further app downloads. Bronny Wilson, Regional Head of Europe for Equiem, explained, "By leveraging technology partnerships with SwiftConnect and HID, we are able to deliver seamless experiences while improving operational efficiency and sustainability for British Land."
Riding on the wave of digitisation, this less traditional form of access demonstrates how a real estate investment company can amalgamate mobile technology with their overall strategy to simplify and distinguish their properties. James Kendall, European Regional Director at SwiftConnect, reiterated this point and showcased how their focus remains on equipping building owners and businesses with the resources and best practices they need to provide a remarkable experience to users while also capitalising on their investments in connected access.
The move towards innovative access approaches, however, is about more than just user experience and efficiency. Sustainability is also a significant factor, with the green benefits of switching to HID-enabled SEOS mobile IDs, powered by the integrated SwiftConnect solution including reduced waste, less use of plastic, lower energy consumption, higher efficiency, and thereby a more positive environmental impact.
Spencer Marshall, Head of Europe for PACS at HID, stated, "Our commitment to innovation levels up mobile access capabilities to ensure that tenants and visitors enjoy a seamless and secure tap-based experience across all spaces. We are proud to partner with SwiftConnect and British Land, two companies at the forefront of redefining modern office spaces with best of breed technologies and unique approaches to PropTech."