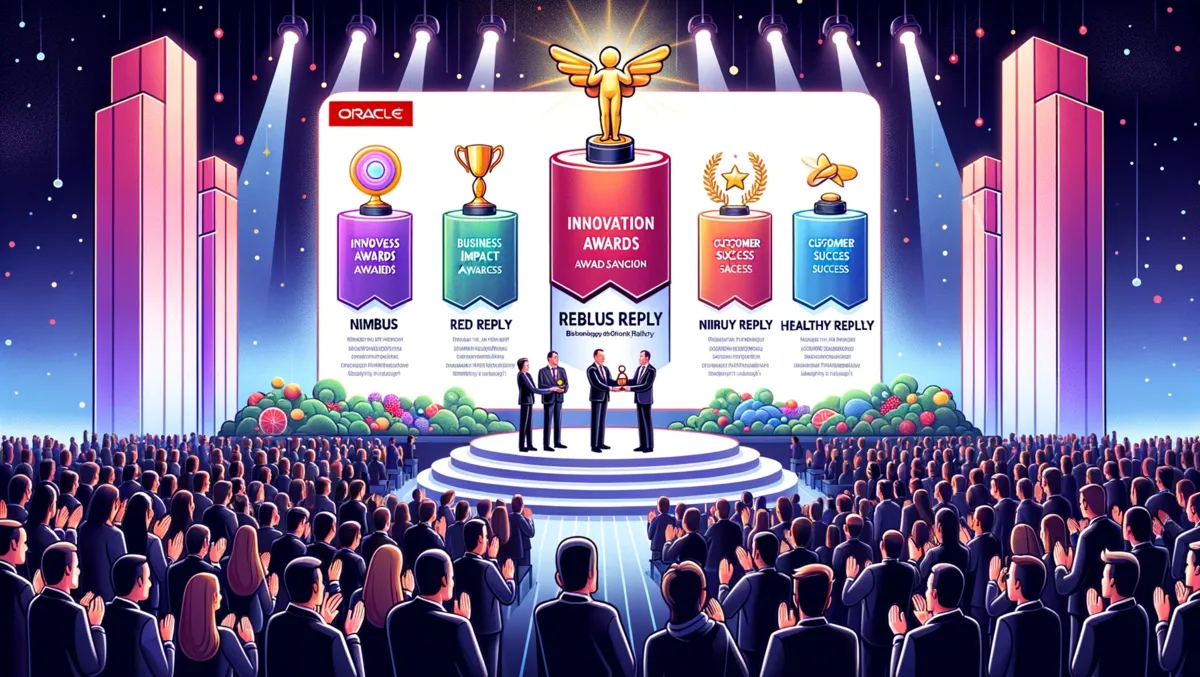 Reply Group triumphs at Oracle EMEA awards
Wed, 20th Sep 2023
By Sean Mitchell, Publisher
In recognition of its pioneering solutions and customer-centric approach, global systems integrator and consulting firm Reply has been honoured with four prestigious awards at the Oracle EMEA Partner Appreciation Reception. The accolades, which span categories including Innovation, Business Impact, and Customer Success, were announced during the Oracle CloudWorld event.
Filippo Rizzante, CTO at Reply, expressed the company's delight at receiving the awards, stating, "We are delighted to have won these awards that reflect our continuous commitment in delivering cutting-edge Oracle solutions. Our ongoing investments in innovation and research & development, together with the expertise and capabilities of our companies dedicated to Oracle technologies allow us to support our customers better and to get the most from Oracle solutions."
The awards were distributed amongst Reply's specialised companies, each being recognised for their unique contributions in leveraging Oracle technologies to foster innovation and drive business growth. Nimbus Reply, a firm specialising in delivering multi-cloud solutions, particularly for the health and public sector market, was bestowed with the 2023 Customer Success Partner of Year – Europe South Tech / Cloud award. This recognition came as a result of their efforts to enhance customer satisfaction through innovative multi-cloud solutions that not only reduce operational costs but also significantly improve system scalability and application performance, all while adhering to critical regulatory requirements.
Red Reply, known for its expertise in Oracle Cloud Infrastructure focusing on IaaS and PaaS solutions, was the recipient of two awards: the 2023 Customer Success Partner of Year – Europe North & East Tech / Cloud and the 2023 Innovation Partner of Year – Europe North & East Tech / Cloud. The former was awarded for their proficiency in adding value to their end customers by streamlining solution implementation and management, thereby reducing costs and achieving a measurable return on investment. The latter accolade was in recognition of their innovative solutions that facilitate seamless migration of legacy applications to the cloud, enhancing operational efficiency and transforming them into Cloud-based Software-as-a-Service (SaaS) through a fully managed service.
Furthermore, Healthy Reply, a company specialising in telemedicine and telemonitoring, was acknowledged as the 2023 Business Impact Partner of the Year – Europe South Apps / SaaS. This was for their exceptional solutions based on Oracle SaaS for the healthcare industry, which has proven invaluable in expediting projects and integrating with national healthcare systems.
Reply has been a dedicated partner of Oracle since 1997, boasting over 1500 Oracle certifications and managing one of the main European centres of competence. The firm is renowned for its comprehensive coverage of the entire supply chain and its expertise in Oracle application suites, technologies, and industry-specific vertical solutions.
As a network of highly specialised companies, Reply continues to define and develop business models enabled by the latest advancements in AI, big data, cloud computing, digital media, and the Internet of things (IoT), delivering consulting, system integration, and digital services across various sectors including telecom, media, industry, services, banking, insurance, and the public sector.