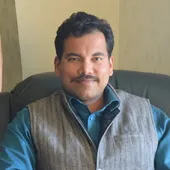 By Gaurav Sharma, Journalist
Artificial intelligence (AI) and machine learning (ML) adoption is increasing across virtually every industry, but their impact has been particularly notable in the fintech and financial services sector.
A recent McKinsey report found that 55% of businesses have now adopted AI in their everyday practices. However, when we examine the financial services industry in isolation, Bank of England data reveals that 72% of firms have implemented AI in some form.
According to Ronald Binkofski, chief executive officer at STX Next, the differential between financial services organisations and businesses on the whole outlines how well-suited AI and ML applications are in streamlining fintech operations and opening the door to further innovation.
"As the fintech industry has grown and evolved, we've seen an increase in demand for automation as a tool for driving efficiency and innovation, with AI and ML the facilitators of the sector's transformation," adds Binkofski.
"Automation allows fintech companies to execute tasks and processes much faster than manual methods. For instance, AI-powered trading algorithms can analyse market data and execute trades in milliseconds, enabling real-time decision-making and taking advantage of market opportunities before human traders can react."
"AI and ML algorithms can also process vast amounts of data with high precision, reducing the chances of human error that is common in manual data handling. This accuracy is crucial in areas like fraud detection, risk assessment and compliance, where even minor mistakes can have significant consequences," he adds.
"We're seeing automation streamline workflows and reduce manual interventions, leading to enhanced overall efficiency. By automating repetitive tasks, employees can focus on more strategic and complex activities, driving innovation and business growth."
Another important application of AI and ML is how they allow businesses to scale. Automated systems can handle large volumes of data and transactions without compromising performance. As fintech companies grow, automation ensures that their processes scale effortlessly to accommodate increasing demands."
Automation also allows for the delivery of personalised financial services to customers. AI-powered recommendation engines analyse individual preferences and behaviours to offer tailored investment options, insurance plans or financial advice, enhancing the customer experience.
"Finally, automation through AI and ML facilitates real-time data analysis, enabling financial institutions to make faster and data-driven decisions. This is especially critical in markets with rapid fluctuations, where real-time insights can make a difference in gaining a competitive advantage," notes the CEO.
"ML algorithms can continuously learn from new data and adapt their models. Therefore, early adopters will benefit from automated systems that improve over time, becoming more accurate and efficient as they gather more information. In the fintech industry the difference between success and failure can be extremely small, so AI and ML can be instrumental in giving companies an edge," he concludes.