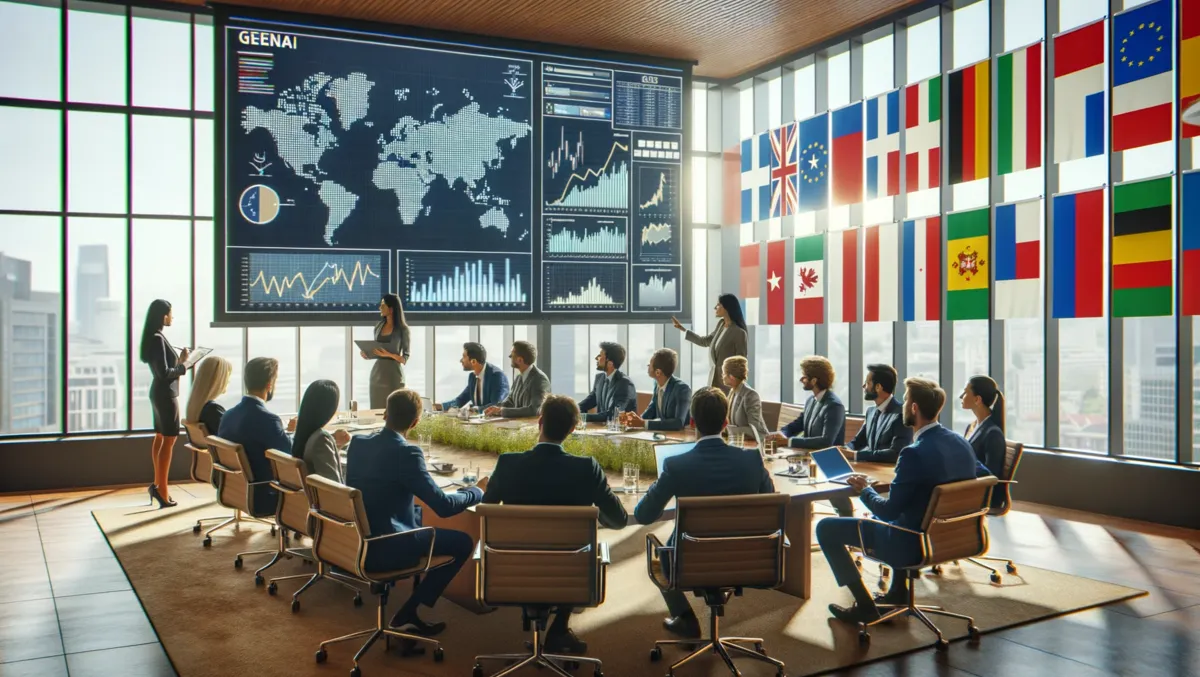 New EY survey uncovers European financial leaders' opinions on AI
Generative Artificial Intelligence (GenAI) technologies are expected to significantly enhance productivity in the European financial services sector, as per the recent EY European Financial Services AI Survey. The majority of leaders (77%) anticipate a considerable impact on their workforce and operations.
The survey involved 60 European financial institutions, featuring firms with a joint market cap of 507.7bn. Outcomes revealed that roughly two-thirds (68%) of participants anticipate that a quarter of all roles will require AI training or upskilling in the coming 6 to 12 months, while 17% believe this could rise to half.
Despite these projections, lacking action plans was observed in more than a third (35%) of those surveyed. Additionally, 42% described their referenced plans as being 'in their infancy', which leaves the potential gains from productivity via training and upskilling quite limited.
Over the previous 6 to 12 months, GenAI investment is noted by nearly two-thirds (60%) of respondents. An increase in spending over the next 6 to 12 months in the integration of these technologies is planned by 75% of executives.
As GenAI technologies and their applications continue to evolve, EY's EMEIA Financial Services Technology Consulting Leader, Ayman Awada, urges financial services leaders to adopt a strategic mindset to manage their investment in new technologies and people effectively.
The impact of AI on entry-level and graduate talent is under scrutiny. To accommodate this, 35% of executives have plans to integrate AI training within their graduate programmes, with entry-level roles projected to undergo a significant restructuring process.
Financial leaders are also keenly looking for attributes like an innovative interdisciplinary mindset and technical proficiency in potential hires for a GenAI-enabled workforce. A demand for expertise in data science and innovation (45% of respondents), information and technology (24%) and operations (14%) is paramount for AI integration.
EY EMEIA Financial Services Managing Partner, Omar Ali, notices GenAI gaining prominence on Europe's financial service agendas. While considering and assessing the required skills and ethical considerations, he emphasises the importance of simultaneously planning for future talent generation.
Concerns around GenAI revolve around limited workforce understanding (36%), potential regulatory impacts (29%), and ethical issues (7%). To navigate any ethical implications, it has been reported that 18% of participants have already put an AI ethics framework in place with 30% of firms being in the early stages of their framework. At the same time, 45% of those surveyed stated their firm is yet to develop an AI ethics framework.
Among the financial services executives, 50% agreed that their firm's technology team, under the leadership of the Chief Information Officer (or equivalent position), would be responsible for the integration of AI into the business.
Ayman Awada reiterated that devoting time to understand how to formulate, develop and integrate new capabilities remains a critical first step for firms to ensure successful GenAI integration and mitigate risks whilst reaping the potential benefits.